Mrs. Truong Ly Hoang Phi: JumpStarter 2023 as a warm breeze, increasing opportunities to help Vietnamese startups overcome "the cold winter"!
Alibaba Entrepreneurs Fund collaborates with IBP and BSSC to provide funding for Vietnamese startups, opening up opportunities to access the Hong Kong and China markets.
As part of the "Innovation Workshop Series," the seminar "Jumpstart with Alibaba Entrepreneurs Fund 2023" took place to celebrate the signing of a collaboration between the Alibaba Fund – Alibaba Entrepreneurs Fund and IBP and BSSC in supporting Vietnamese startups.
Vietnam to introduce Vietnamese startups to the approach of the Alibaba Entrepreneurs Fund. The investment fund named Alibaba Entrepreneurs Fund (AEF) was established in 2015 with a scale of $130 million to invest in and support technology initiatives and projects. Launching the JUMPSTARTER 2023 program in Vietnam is a clear demonstration of long-term support for the Vietnamese startup ecosystem, and this program serves as a gateway for Vietnamese startups to directly access the AEF funding source.
In addition to the prize with a total value of HKD 1 million from the JUMPSTARTER 2023 program and the opportunity to receive investment capital from the AEF Fund of up to $5 million, the Alibaba Group aims to connect Vietnamese startups to Alibaba's global ecosystem in various fields such as E-commerce, FinTech, Cloud, Logistics…
Ms. Truong Ly Hoang Phi, Chairman of the Board of Directors & CEO of IBP, Founder & Strategic Advisor of BSSC, and Vice Chairman of the Ho Chi Minh City Young Business Association (YBA), believes that Vietnamese businesses, in general, and Vietnamese startups, in particular, are facing a time that requires change and innovation to optimize resources for development and enhance competitive advantages in a rapidly changing business and technology world.
According to the CEO of IBP, to innovate, businesses need not only to understand themselves but also to have access to, share, and learn from other businesses both domestically and internationally in order to find suitable ways to adapt and transform.
"Therefore, with the desire to provide valuable resources to the Vietnamese business community in general and Vietnamese startups in particular to enhance their competitive strength through innovation, IBP and BSSC see collaboration with Alibaba as a crucial starting point. Along with this MOU, IBP and BSSC will intensify activities related to market access, technology, finance, and investment for businesses and startups in Vietnam," shared Ms. Truong Ly Hoang Phi.
According to Ms. Truong Ly Hoang Phi, there are many discussions about the scarcity of investment capital for innovative businesses (innovation enterprises) and the financial winter. The arrival of Alibaba Entrepreneurs Fund in Vietnam has brought an additional "warm breeze" by providing additional resources to help Vietnamese innovative businesses overcome this winter.
"Alibaba Group has a vast ecosystem that can help startups expand internationally, enter new markets, and seek and optimize resources for company development. I hope that the collaboration between Alibaba Entrepreneurs Fund, BSSC, and IBP will bring the Vietnamese Startup Ecosystem closer to the Hong Kong and China markets," shared Ms. Truong Ly Hoang Phi.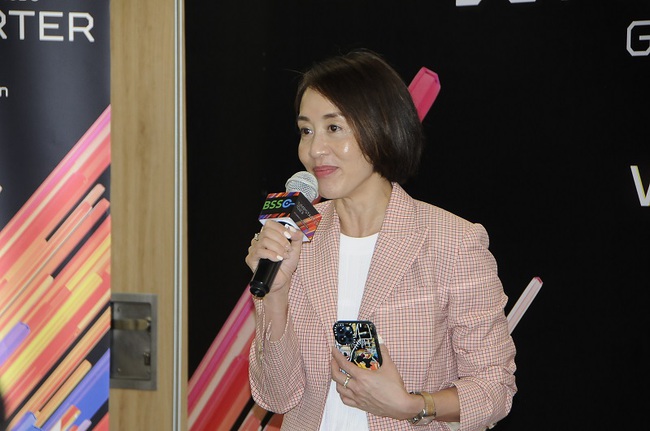 Ms. Cindy Chow, Executive Director of Alibaba Entrepreneurs Fund, shared that the Alibaba Entrepreneurs Fund (AEF) was established in 2015 with a scale of $130 million to invest in and support technology initiatives and projects. After over 8 years of operation with more than 80 investment deals, Alibaba Group is now establishing the second AEF Fund with a scale of $260 million.
According to Ms. Cindy Chow, the Hong Kong market lacks startups and support programs for startups. That is why JumpStarter connects elements within the startup ecosystem, investors, corporations, and the government. Additionally, Hong Kong and the Greater Bay Area (GBA) are considered a unified market with a population of 80 million people and a high GDP of $1.7 trillion. Expanding companies beyond the Vietnamese market is a strategy of AEF. Consequently, AEF considers investing in companies that emerge as winners in competitions.
The representative of the JumpStarter program also mentioned that all startups under 5 years old and with a valuation below $20 million can register for the program. The program will emphasize the following factors: innovation as the most important factor, followed by market potential, business model, team strengths, and sustainable development according to the criteria of the United Nations Development Program (UNDP).
During this occasion, Alibaba Entrepreneurs Fund, IBP, and BSSC have signed a partnership agreement, marking a long-term commitment between the Alibaba Group and the innovative startup community in Vietnam.
Source: Cafebiz